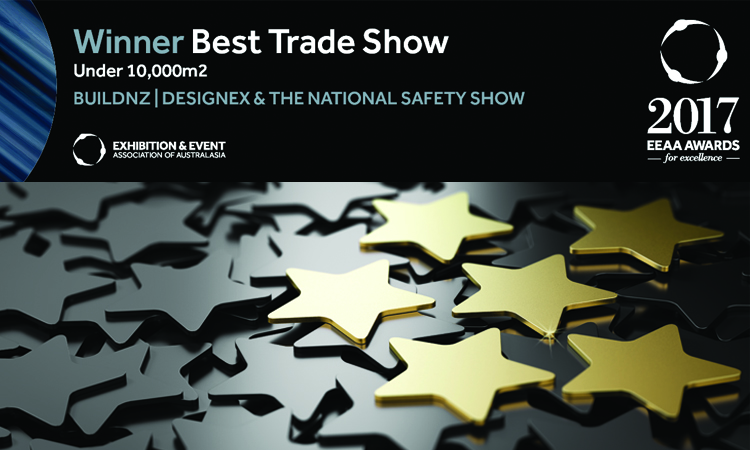 "Best Trade Show in Australasia"
buildnz | designex and The National Safety Show wins "Best Trade Show in Australasia"
buildnz | designex & The National Safety Show has just won Australasia's "Best Trade Show Under 10,000m2", at the 2017 Exhibition and Events Association of Australasia Awards for Excellence. New Zealand owned event organiser XPO Exhibitions won the category against strong competition from many of the largest exhibitions organisers in the world.
Announced in Melbourne at Wednesday's gala dinner & awards ceremony, the 2017 EEAA Awards for Excellence celebrates the Australasian exhibition and event industry's most outstanding achievers. 
About buildnz | designex and The National Safety Show, the judges said…
"A very strong submission with a good level of detail provided for what is a great show that addresses the needs of the industry - with new innovations introduced. A fantastic feat for the XPO team in delivering a successful event, driving business and garnering professional, regulatory and academic interest in the rising wave of the New Zealand construction industry. The community engagement and event legacy is highly commendable. Passion for the exhibition industry and the show is evident and it is fantastic to see innovative initiatives impacting not just the target audience but the general public."
XPO's Events & Sales Director, Tony Waite, says, "buildnz | designex and The National Safety Show's win is a credit to all the time, energy and hard work the hundreds of exhibitors and event partners invested into delivering this world-class event. The team has worked tirelessly to ensure our event remains relevant, innovative and above all one that delivers quality content and a valuable trade industry experience for both exhibitors and visitors alike."
"We'd like to thank all those that have supported us and look forward to working with you all again as we bring buildnz | designex and The National Safety Show back to Auckland in July 2018."
XPO has proudly delivered targeted industry events for over 30 years; events that deliver success for the NZ industry sectors they serve. No other marketing platform provides the industry with the scale and effectiveness to Showcase, Educate and Sell products and services to a targeted attendance.
Congratulations again to everyone involved! 
BACKGROUND
XPO Exhibitions Ltd (XPO) owns and organises a portfolio of New Zealand's largest and longest-running 'business-to-business' trade show exhibitions and events. XPO purchased the majority of its trade shows from the subsidiary of the Daily Mail Group UK, DMG Worldwide Media NZ Ltd in January 2010. In 2013 XPO acquired an additional portfolio of industry trade shows from Hayley Media. XPO has also launched a number of new trade shows including the New Zealand Food Innovation Showcase and Mybiz Expo.
XPO's portfolio of events includes The New Zealand Gift and Homeware Fairs, Foodtech Packtech (FTPT), buildnz | designex (Auckland & Canterbury), Mybiz Expo, The National Safety Show, Engineering, Machinery & Electronics Exhibition (EMEX), Materials Handling and Logistics Expo (MHL), SouthMACH and the South Island Hospitality Show.
XPO will help you Showcase, Educate and Sell your products and services to a broad array of business sectors and industry decision makers. www.xpo.co.nz 
Media Enquiries: Irene Smith irene@xpo.co.nz 09 976 8352