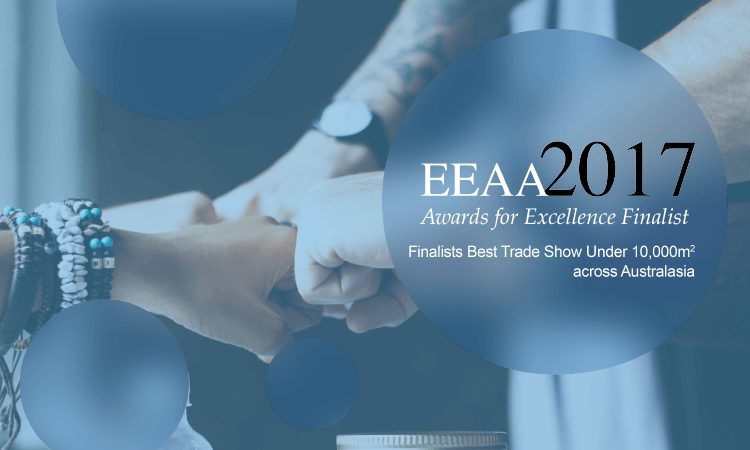 EEAA 2017 AWARDS FOR EXCELLENCE FINALISTS ANNOUNCED
CELEBRATE THE HIGH ACHIEVERS OF OUR INDUSTRY WITH US IN MELBOURNE ON 29 NOVEMBER
The Exhibition and Event Association of Australasia (EEAA) has today announced the 2017 finalists of its premier annual Awards for Excellence.
Following a competitive assessment process, finalists in 14 categories have been decided by an esteemed panel of 39 international and national judges. Nominees for the Richard Geddes Young Achiever Award have also been released.
Winners in the show categories will undergo a second round of judging to determine the coveted Best Show winner for 2017. All winners, including the inaugural Unsung Hero, will be announced at a gala dinner in Melbourne on Wednesday, 29 November 2017.
EEAA Chief Executive, Joyce DiMascio, acknowledged the high calibre of entries and commended the finalists on their achievements. "This is a distinguished shortlist that has met high standards of excellence as decided by some of the most reputable global and national leaders of our industry," Ms DiMascio said. "The judging has been tight and very competitive across a number of categories. The calibre of the entries is testament to the talent of the exhibition and event sector in Australasia. "I thank the judges for their time and expertise throughout this process and Chair of Judges, John Trevillian, for his expert oversight. "And, I congratulate all of the finalists and nominees for their achievements so far and wish them all the very best for the final awards presentation in Melbourne on 29 November at Melbourne Museum." As part of its 25th anniversary celebrations, the Association will also hear from a range of people who have contributed to the industry and the Association over the past quarter century.
The EEAA Awards for Excellence are a highlight of the business event industry calendar. Each year, they shine a light on the achievements of EEAA members and honour the existing and future leaders of our industry – the shows, venues, suppliers, teams and individuals that have excelled in their field and are beacons of innovation, passion, leadership and commitment.
The EEAA 2017 Award for Excellence gala dinner will be held at the Touring Hall, Melbourne Museum on Wednesday, 29 November 2017. Exhibition & Event Association of Australasia | www.eeaa.com.au | ABN 35 433 559 243 PO Box 952 Chatswood NSW 2057 | T: 02 9413 9520 | E: memberservices@eeaa.com.au 2 The EEAA 2017 Awards for Excellence gala dinner is part of the Association's three-day finale events in Melbourne, 28-30 November 2017.
Anyone with an interest in the business event industry is encouraged to join the Association for one or more of the following events. Registrations are now open. View the Preliminary Conference Program and book your place for any of the below events.